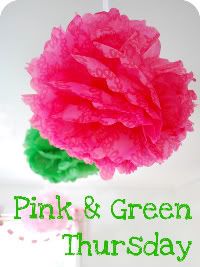 How great is it that Pink & Green Thursday falls on St. Patricks Day! I love this holiday and feel proud to be 50% Irish. And I love the fact that everyone wants to be Irish today. So grab a green beer, (wine for me!) and raise you glass to the Irish! There are two people I want to dedicate this blog to today..
My Awesome Cousin Kelly Murphy!




























































































































I love shamrocks so I thought for my Pink & Green I would incorporate a little symbol for "Luck", cause can't we all use a little luck of the Irish?
I have yet to pick up this Pandora Clover Charm, but still love it!
Since I was a kid my family nicknamed me "Jameson", technically "Jamison". So anytime I enter a room, it's tradition to shout it out!
And also with you...(if your catholic, you'll get it)
P.S. I love you!!
I have to get GIGI one of these collars...too cute!
I just thought this was Hilarious!!!
Very Clever!!
Proud to be Irish!!
I can't believe I found an image of Gigi dressed up for the Holiday!